Post- May 2017
An exhibition, promoting and presenting a selection of new works.
M3 Invite - August 2016
Atelierhaus Mengerzeile & Kunsthalle M3
A group exhibition of works by:
Alexej Paryla
Christoph Dettmeier
Streykatt aka Bobby Collins
Francoise Cactus
Brezel Göring
Ole Wulfers
Florian Willauer
Kınay Olcaytu
Django Knoth
Peter Knoch
Chris Keller
and
Veronika Schumacher
from 14.08-30.8.'15 open Friday to Sunday 17: 00-20: 00
T.A.G. Opening - March 2009
Group exhibition of 'No Die No Sore Lover…' during Brussels Art Week, March 2009.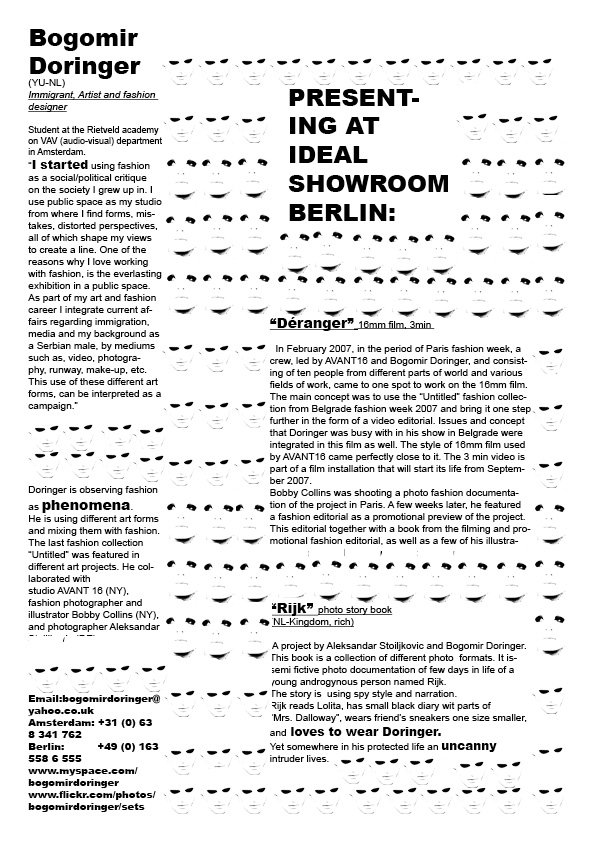 Ideal Showroom 2007
Announcement for the presentation at Ideal Showroom 2007.
Someone's Garden Magazine @ Ideal Showroom 2007
Cover photograph by Streykatt aka Bobby Collins

エデンから逃走したXS=アダムとイブは、朝=覚醒を求め、眠る都市を彷徨い歩く…。
[Contents]
L:
・SEBASTIAN BREMER
・HENRIK VIBSKIV / Interview
・FLY / Conscious Dreams
M:
・IVETTE ZIGHELBOIM
・ALEX FREUND / Collection
S
・LIZ MAW
・BOGOMIR DORINGER + Avant16 / Art film
・IDEAL / Intervie
・CHECKINIT / Fashion shooting
XS
・ADAM HELMS
・ANDERS SOELVSTEN THOMSEN / Fashion Shooting "SUICIDE"
XY
・JASON LAZARUS
・KIM LIGHTBODY / Fashion Shooting "Steal Yourself a Daydream"
XX
・HARRISON HAYNES
・TAKUMI IWATA + HIROSHI HATATE / Fashion Shooting "Amusin Fellas" feat. NIKE
XXX
・YOMAR AUGUSTO
・LULA
・CAFE MOCHA MINT / Fashion x sweets
・I.D.S.
・COSPLAY
・思想疾走失踪 by Arne Hendriks
Studio 80 - March 2007
An art performance, presented by artist Bogomir Doringer, for 'Fashion Radio' at Studio 80 in Amsterdam. Photo documentation by Bobby Collins.
Post-
An exhibition to present and promote new works from a selection of recent projects.
BAD Gallery
A selection of images with the theme ,by BAD Gallery, 'Sweet Dreams', presented at Genres d'à Côté for the Pink Screens film festival in Brussels, Belgium.
Gemengelage
Eine Gruppenausstellung mit Werken von:
Alexej Paryla
Christoph Dettmeier
Streykatt aka Bobby Collins
Francoise Cactus
Brezel Göring
Ole Wulfers + Mike Hentz
Florian Willnauer
Kınay Olcaytu
Django Knoth
Peter Knoch
Chris Keller
und
Veronika Schumacher


vom 14.08-30.8.'15
Öffnen Freitag bis Sonntag 17:00-20:00
No Die No Sore Lover...
Love… the 'universal symbol' of love, the heart, replaced with a dinosaur. A semiotic reminder of love as it became.. probably how it was from the start. 'Run away'… 'hide'… 'it can kill you'… 'scary'… 'eat you alive'… 'tear me apart' 'extinct'… 'reminisce'.
Déranger
A collaboration with artist Bogomir Doringer and (now defunct) Avant16. In February, 2007, the three way collaboration began in Paris during Paris Fashion Week. The idea was to 'bring to life' and capture on film, the humanoid characters (as performance art), at a familiar Parisian landmark, The Seine. The humanoids represented alienation, isolation, xenos, exclusion, seclusion, etc..
While the filming of this 'performance' with Jelena Ilic, Charlotte Wandt, Romain Roz, and Aleksandar Josipović as the humanoids, by Avant16, Bobby Collins (Streykatt) had intermittently photographed the 'performance'.
The film by Avant16 was the winner of the 2nd Edition of 'You Wear It Well / Got A Minute?' fashion film competition by Diane Pernet of 'A SHADED VIEW ON FASHION', simultaneously an exhibition at Cafe Moskau (Berlin) for Ideal Berlin.
From this win, a good dozen of fashion editorial style photos, shot by Bobby Collins, where used to promote the Déranger project, sometimes along with some accompanying stills from the film, in several international art and fashion magazines.
Riding the wave, another 'performance' was given at 'Studio 80' an avantguard party in Amsterdam NL, upoon the return from Paris, where Bobby Collins photographed the humanoids in a similar scenareo.